2 posts • Page 1 of 1
Here is a very nice example of a Dix
token
. This
token
paraphrases
John Adams Dix
, who as Secretary of the Treasury at the outbreak of the
Civil War
, sent a telegram to the Treasury agents at the New Orleans Mint ordering that: "If any one attempts to haul down the American flag, shoot him on the spot." Although the telegram was intercepted by Confederates, and was never delivered to the Treasury agents, the text found its way to the press, and Dix became an early "poster child" hero of the North during the
Civil War
.
Dix had an interesting life, and fulfilled so many different posts that it is almost absurd. During his lifetime he served in the military early in life, leaving as a captain (1825). He then went on to practice law (1828), was Adjutant General of the New York State Militia (1830), Secretary of State of New York (1833), a member of the New York State Assembly (1842), a US Senator (1845), ran for Governor of NY State but lost (1848), and was President of the Mississippi and Missouri Railroad Company (1853). In 1861 he was appointed Secretary of the Treasury, and also postmaster of the City of New York. He also joined the US Army as a Major General in 1861. He was president of the Union Pacific Railroad (1863-1868) and would go on to also be Minister to France (1868) and, in late life, he was Governor of New York (1873) and ran for Mayor of New York City, but was defeated in 1876.
This particular die pairing is quite common; however, this example is the highest graded example listed in the NGC population reports. The toning pattern on the reverse is quite stunning, and just sparkles in hand. I will post the composite image in the CWT general thread as well for completeness.
Thanks for looking,
-Brandon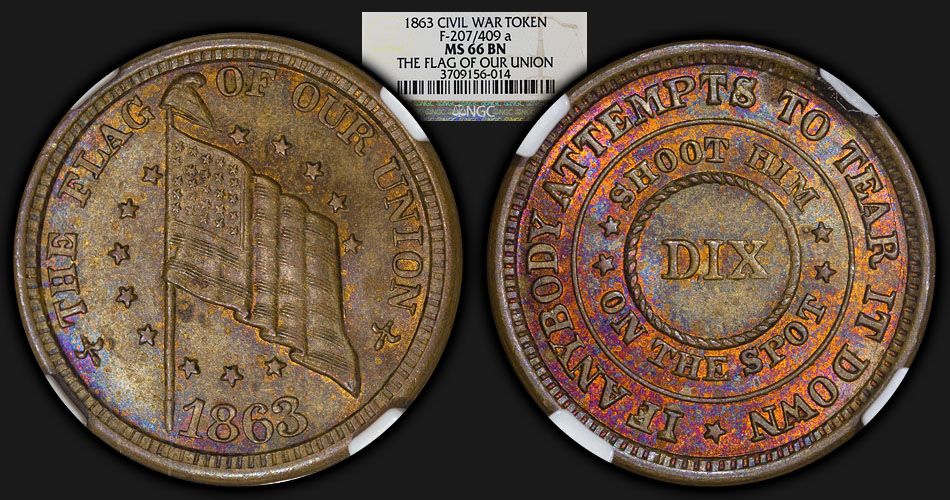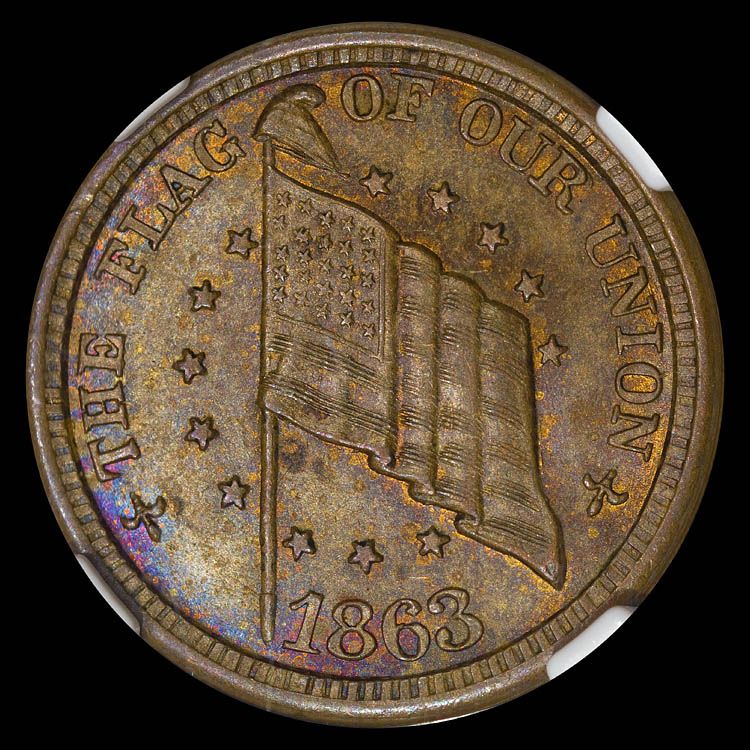 Noble Citizen

Posts: 226
Joined: Sun Oct 28, 2012 6:45 pm
Location: Minnesota
Gender:
Points: 300
---
Seen the
token
design before but never in this conditions. For you to have the highest condition known to be certified is fantastic and an awesome accomplishment, Brandon. CoinGuy would be jealous and maybe offer you something for it....lol
I didn't know anything about Dixon. I
love
what you wrote here. So much information about him and his accomplishments it should be in the blogs as well. To add to the rarity of the certified grade and history, it has amazing toning. It is for sure one of those "must have" in such a collection as nice as yours. Congratulations and again, thanks for sharing.
Host

Lieutenant General

Posts: 3600
Images: 778
Joined: Mon Mar 14, 2011 10:16 pm
Location: South Florida
Gender:
Points: 2460
---
---
Return to U.S. and Foreign Tokens & Medals
Related topics

Replies
Views

Last post
Right Now on CU's Auction House
Who is online
Users browsing this forum: No registered users and 1 guest